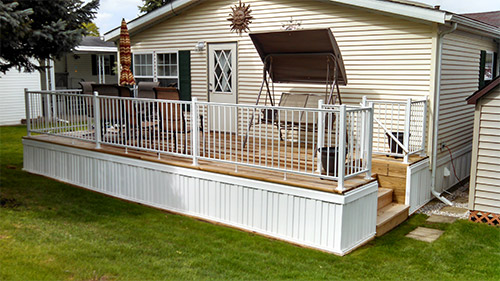 For top-level mobile home repair services in Lansing, MI, there's no better option than Aardvark MFG. Home Service & Supply. Our team goes above and beyond to provide you with the products and services you need to enjoy a home that's safe, secure, comfortable and in full working order.
Repairs, replacements and installations
Our service division is adept at repairing, replacing and installing products and materials across all of the major areas of your mobile or manufactured home. Some of our focuses include:
Furnaces: We're able to offer inspections, cleanings, general repairs and even replacement units. We'll keep the heat flowing when the harsh Midwest winter rolls in.
Water heaters: Our team can inspect and replace water heaters and their peripheral parts—especially the flooring around and under them.
Air Conditioners: Call us to clean, inspect, repair, and replace your AC unit when failures arise.
Subfloor repairs: From water damage to wear, subflooring can become damaged over time. Contact us for repairs you can count on, to restore the integrity to your flooring.
Mobile home skirting: We install and repair mobile home skirting in Lansing, MI, protecting your undercarriage and all plumbing contained there.
Window replacement: Got a damaged window? We'll replace it to restore the integrity and strength of the pane. It'll help improve your home's energy efficiency and resilience against weather.
Kitchen and bath: We replace tubs, sinks, faucets and fixtures, as well as the plumbing that comes with them. Our goal is to keep the water running in your home!
Doors: We have a great selection of interior and exterior doors, as well as patio doors. Our service capabilities include installation and replacement.
Awnings: In addition to mobile and manufactured homes, we also install awnings for residential homes! We work strictly with aluminum (no canvas) and provide homeowners with non-retractable, permanent structure awnings.
Brands we offer
In addition to an impressive repertoire of services, we also stock a wide range of mobile home supplies in Lansing, MI. We rely on industry-best brand names across all of the products we carry, including recognizable manufacturers such as:
Our service department can competently repair, replace, and install all parts of your manufactured home such as:
Windows:
Metal Frame
Thermopane
Doors:
Combination Front Doors
Single Out Swing Doors
Screen Doors
Patio Doors
Awnings:
Window & Door Hoods
Patio Covers
Carports
Home Inspections
Plumbing:
Leaky Water Lines & Pipes
Outside Spickets
Freeze & Breaks
Frozen Pipes
Winter Checks
Furnaces:
Inspections
Cleaning
Repair
Replacement
Air Conditioning:
Inspections
Cleaning
Replacements
Kitchen and Bath:
Bath Tubs
Showers
Wall Surrounds
Tub & Shower Doors
Faucets
Sinks
Toilets
Exaust Fans
Range Hoods
Garbage Disposals
Water Heaters:
Inspections
Replacements
Floor Replacement
Heat Cables
Duct Work Repair
Under Carriage Repair
Sub Floor Repair
Skirting:
Align & Refit
Replacement
Steps
Fiberglass
Wood
Mini Decks
Railings
For more information about all of the products and services offered by Aardvark MFG. Home Service & Supply, visit our showroom today or contact us by calling 517-487-6295.